Posted by Drew DeVitis
Local
Park(ing) Day, the annual celebration of pop-up park installations, featured more than 50 temporary parks in neighborhoods all throughout Seattle. Captiol Hill, for instance, had six parklets in the neighborhood, including one that was showing free Couch Fest short films and another that offered free bike tune-ups.
Community members in Kenmore held a memorial walk for Caleb Shoop, a 19 year old graduate of Inglemoor High School, who was struck and killed while biking in a crosswalk on March 18th.  Concerned about bike and pedestrian safety in the city, the group also discussed ways in which to improve the safety for walkers and bicyclists.
SDOT has been at work to make pedestrian improvements throughout Seattle, using funds from Bridging the Gap levy passed in 2006. So far in 2014, the department has remarked 384 crosswalks, made 23 crossing improvements, and installed pedestrian countdown signals at 45 intersections.
National
Over 1,000 people from all 50 states and 12 different countries attended Pro Walk/Pro Bike/Pro Place, the largest conference for walking and bicycling professionals. The conference brought streets, our greatest public spaces, to the forefront of the discussion in creating livable communities for people.
A featured speaker at the Pro Walk/Pro Bike/Pro Place conference held in his hometown, Pittsburgh mayor Bill Peduto plans to make his city a leader in walking and biking infrastructure, fueling the ongoing renaissance of the city.
The Atlantic's State of the City poll has found a number key factors affecting how people rate their communities on a one to four scale, from excellent to poor. Personal safety, measured by how safe people feel from crime when walking in their neighborhoods after dark, was first on the list.
International
Lillestrøm, Norway recently handed out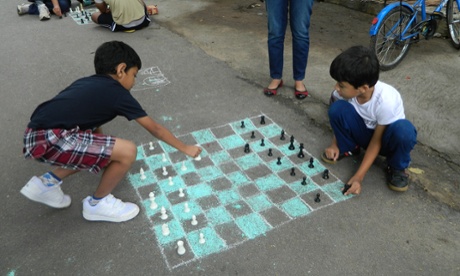 10,000 kronor ($1,500) to pedestrians and cyclists as symbolic reverse toll money. The money represents the health benefits as well as the cost savings of walking and cycling as opposed to driving.
"Chalkifying" streets has become a global phenomenon, as community members from Brighton, England to Bangalore, India have used chalk to make public spaces more enjoyable places. Part of the Playable Cities Movement, "chalkifying" involves using chalk to create temporary drawings in the public realm to bring people together in a fun way, such as hopscotches or chess boards.
If you come across any interesting pedestrian news or stories, please send a link to drew.devitis@gmail.com.
Photos courtesy of West Seattle Blog, Downtown Pittsburgh, and The Guardian