Posted by Drew DeVitis
Local
The Walk 2 Work Week Challenge, which is a part of the Seattle Design Festival, was held from Monday, September 8 through Friday, September 12. Participants were encouraged to recognize how design plays an important role in great walking experiences and support pedestrian safety and accessibility in Seattle. Daily architecture themes were featured: Mosaic Monday, Terra Cotta Tuesday, Windows Wednesday, Stair Tread Thursday, and Fountains Friday.
Seattle is getting ready to develop 14 new public parks throughout the city, which will be completed between 2016 and 2018. The Seattle Park District approved by voters in August will allocate about $10 million to develop 12 spaces purchased with money from the 2008 parks levy, plus two additional parcels where purchases are pending.
The North Beacon Hill Safety Connections project is gearing up for the start of construction, following SDOT's third and final public meeting this past Tuesday. The project will build a new, continuous sidewalk and an uphill bike lane on Beacon Avenue South, build two curb bulbs at 14th Avenue South and South College Street, and add an all-way stop and marked crosswalks at Beacon Avenue South and 14th Avenue South.
National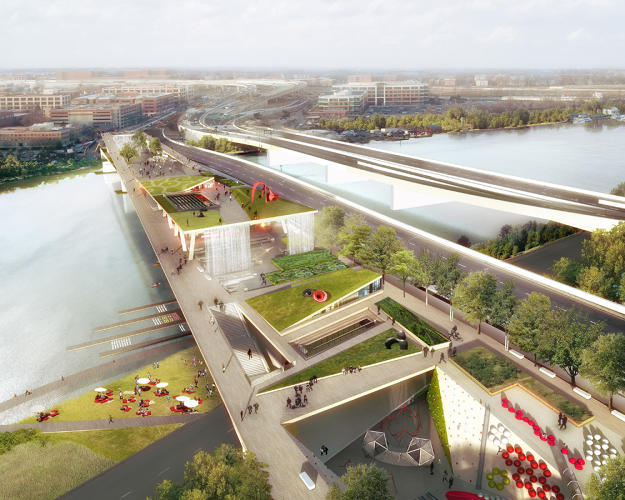 In Lakewood, Colorado, a suburb of Denver, a large regional mall on a 100-acre superblock site is now 22 blocks of walkable, mixed-use development that connects up with the neighboring streets.
The 11th Street Bridge Park is set to be built on a set of abandoned pillars from a bridge crossing the Anacostia River in Southeast Washington D.C. This project, which will transform a piece of abandoned infrastructure into a vibrant recreational destination, builds on the success of New York City's High Line.
International
According to a study from the University of East Anglia of 18,000 UK commuters, walkers and bikers feel better able to concentrate and are under less strain than those who travel by car or public transportation.
Prince Arthur Street in Montreal is known for its stretch of road, open year-round to pedestrian-only traffic, but due to poor urban design, has faded in popularity over time. It now acts more like an unobstructed transportation corridor for pedestrians and cyclists to reach more popular destinations.
If you come across any interesting pedestrian news or stories, please send a link to drew.devitis@gmail.com.
Photos courtesy of Lauren Spear, Fast Company, and Global Site Plans