Posted by Drew DeVitis
Local
The Walk 2 Work Week Challenge, which is a part of the Seattle Design Festival, kicks off on Monday, September 8. As long as you walk at least part of the way to work, even if you cross a bridge, take a
train or ferry to reach you job, we invite you to explore design and what you can see when you go by foot.
As children returned to school this past week, speed-enforcement cameras have been turned on at five more Seattle schools, increasing the city's network to a total of nine locations. City Council is reinvesting the money charged in fines into more speed cameras, crosswalks, sidewalks, signals, and traffic-safety education.
A 12-year-old boy on his way to school was hit by a car that ran a red light Friday morning in Seattle's Wallingford neighborhood. Our thoughts go out to the boy and his family, and we wish for a speedy recovery. As school is back in session, there is now 14 percent more traffic during school travel times, so it is best to be patient and observant of children walking to school.
The Seattle Department of Transportation debuted an ultra-tough, high-priced road paint to mark a high-volume crosswalk, and might look to use the paint more widely for painting crosswalks in the future. SDOT is currently closing in on its promise to re-mark 5,000 crosswalks during the Bridging the Gap levy's nine-year term.
National
While crossing on red is often assumed to be an issue of poor individual pedestrian behavior, recent research from EMBARQ finds that it is likely to be significantly related to the design of signals and intersections. Long waiting times at traffic signals can make it more likely for pedestrians to cross on a red light.
Only 34 percent of Americans reported walking to regular destinations, such as work, shopping, or school often or all of the time, ranked last in a 17-nation "Greendex" study. Compared to other countries, like Spain and Germany where walking is twice as common, roadway design in the U.S. often fails
to safely accommodate walkers.
Walking on a regular basis is quite healthy for both your body and your mind.  When we go for a walk, the heart pumps faster, circulating more blood and oxygen not just to the muscles but to all the organs"including the brain. Hence, many experiments have shown that after or during exercise, even very mild exertion, people perform better on tests of memory and attention.
International
In order to relieve congestion on downtown tramway lines, a marketing campaign in Bordeaux, France plans to suggest that users of city's tramway network choose to walk between nearby stations. The marketing campaign wants to show commuters that walking is a viable alternative for reaching transportation destinations.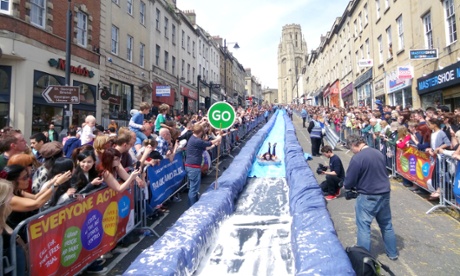 Bristol, England has recently embraced the Playable Cities movement, hosting a 300 foot water slide on one of its main commercial streets, creating temporary corridors for kids to play in, and holding a zombie chase game around the city center, among other activities. Next week, many of the people responsible for these projects are meeting for a conference at Bristol's Watershed on Making the City Playable.
If you come across any interesting pedestrian news or stories, please send a link to drew.devitis@gmail.com.
Photos courtesy of SDOT, Sustainable Cities Collective, and The Guardian